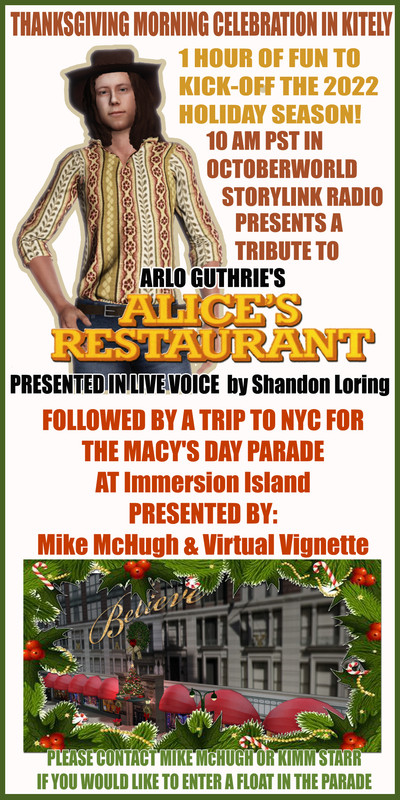 Don't miss the fun! 1 Hour of celebration with your online friends & family before you spend
the day with your real-life friends & family!
Shandon Loring's annual tribute to Arlo Guthrie's Alice's Restaurant is a must see and has become a Kitely
Thanksgiving tradition!
10 AM PST at Octoberworld
hop://grid.kitely.com:8002/OCTOBERWORLD/194/155/22
Who doesn't love the Macy's Day Parade on Thanksgiving Morning? We're giving it a whirl, maybe it too
will become a Kitely Tradition.
immediately following Alice's Restaurant Trubute at Immersion Island
hop://grid.kitely.com:8002/ANVIL-Island/526/384/602
Anyone interested in entering a float into the parade? Showcase your business, world or
anything that comes to mind. Be creative!
Contact Mike McHugh or Kimm Starr
Entry must be submitted by November 22nd, 2022 due to scripting.