I'm excited to announce that after about a year and a half the big day is finally here. I'll be opening Coopersville to the public on Saturday the 27th of April.
Coopersville is an Edwardian Era region with boats, planes, cars, horses and balloons that can be rezzed and used. There is a downtown area with shops full of items from some of Kitely's best creators. There is also a beach, a public pool, a trolley, and a Nickelodeon style theatre with silent movies.
The best part of all is that around the perimeter of the region are
15 homes set up that are free
for anyone who wants to be a Coopersville resident to claim. The only stipulation is that when decorating the homes there can't be anything newer than the 1920s since this is a historical theme.
When people arrive on Saturday at the landing spot in the big top tent they will receive a notecard that lists all of the areas and things to do with landmarks to help everyone get around until they are more familiar with the region.
Instead of a single meeting place or a dance the region will be open and people can explore, sort of like an open house idea but region wide. If there is any change to this I'll put it in this thread and on the calendar.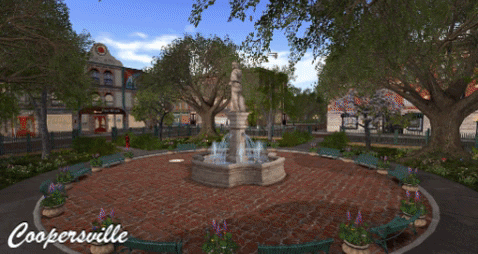 Here is the website that has photos of some of the locations around Coopersville.
http://coopersville.strikingly.com/
I look forward to opening, it's been a labor of love and many great creators have generously donated period items too.
The main landing area is at: grid.kitely.com:8002:Coopersville You'll be given a notecard with landmarks when you arrive. We will still be closed to the public until Saturday though.
NOTE: We still have some store available, they are completely free, but items must be older than 1920 unless they are timeless things like trees, plants, animals etc... IM me if you are interested in being a Coopersville merchant.