For the third time in a week I needed to explain to someone how to find things using search. People come here and assume they can use Search and then check Classifieds, or Places etc. Search currently only works for People and Groups. Not events, places, classifieds etc. I do hope one day Events can get on there, as I would love to search for events , but at least the new viewer log in page for Kitely addresses this well. (yay! So great that the community input made this happen.. well and Ilan and Oren too of course

)
Anyhow - for anyone who hasn't found this out already, the viewer CAN be used to find places and even items, similar in nature to Classifieds.
Using Firestorm as an example:
-Open Search and choose Websearch (different viewers have different wordings for it, and at least one of them does not have a websearch option at all)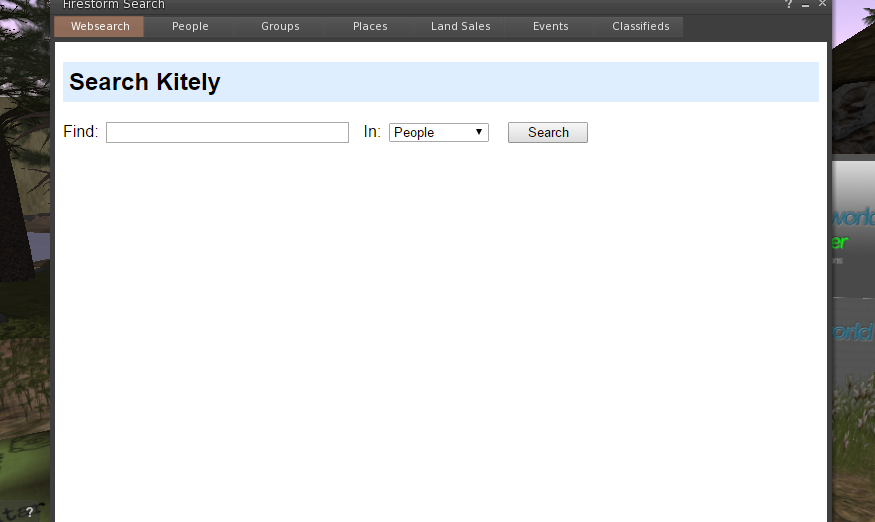 -choose Places or People (it does a better job of searching People than the normal 'People' option also) and enter the term you want. Whether it be an item, or a place. Nature, park, furniture etc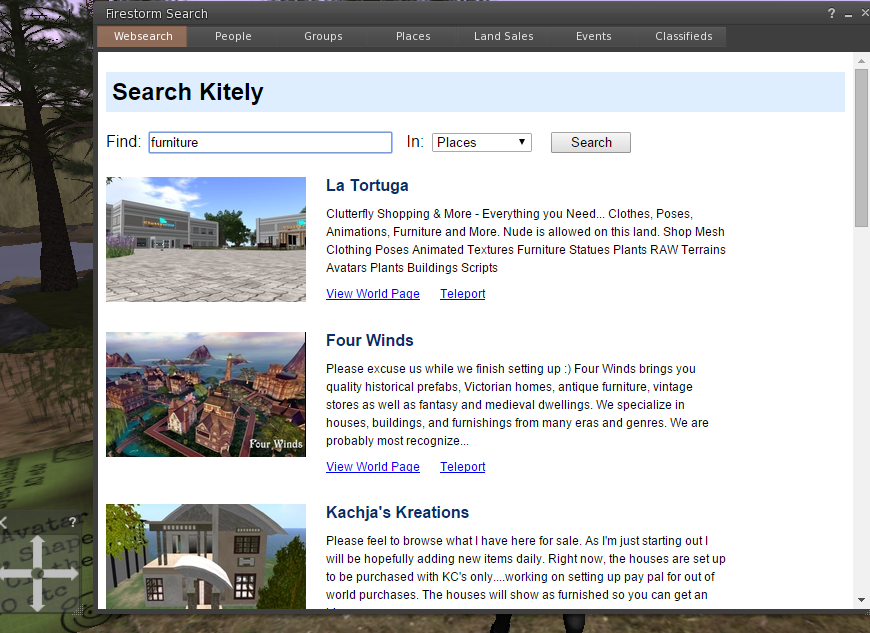 You can then choose to visit the world page on Kitely to read more about it or simply click and teleport.
This is my favourite way to find places. It takes the information from the Kitely world pages and uses that for the search and you can TP right there without having to log into the website. Most people do not realize that the World Pages is the ONLY way to find places and they think that Kitely is simply empty or without shopping etc (and of course we have Kitely market and most people sell there, because selling inworld you can't cash out K coins so most merchants prefer market only).
Until we have a working classifieds, world owners PLEASE be sure to put detailed info on your world page as to what people can find there and that will help you get the visitors you'd like as well as help the residents find their way around

Also, share this post or copy paste it into a notecard and pass it to new people. I made a notecard that I handed out but im going to include the image textures with it also to help make it more clear.