We updated the system today with a feature that makes Events in Kitely much easier to find and attend. This update also includes several other bug fixes and improvements.
Events
Events are a great way to meet other people and have a good time. In this update we've made it much easier to see the list of active and upcoming events. The list of events in Kitely is now shown in the viewer's login page: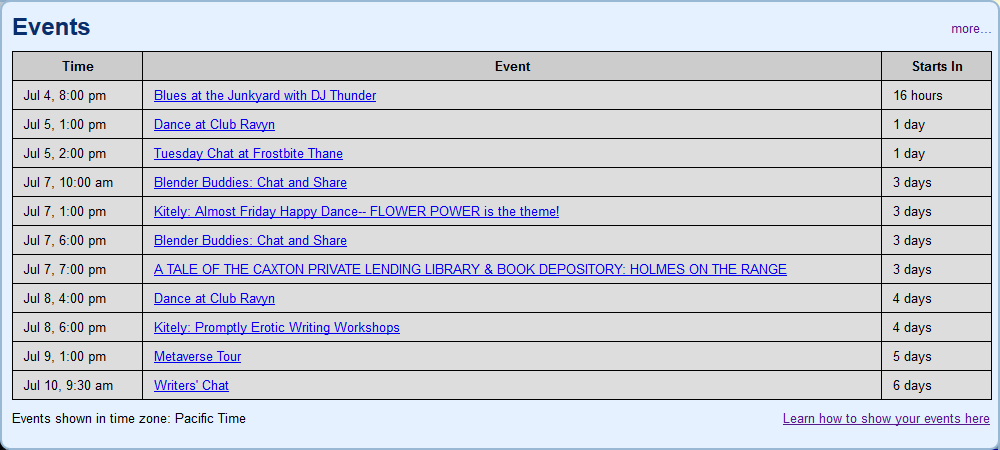 Click on an event to see its details. Then, click on the event's location to enter the world where the event is taking place.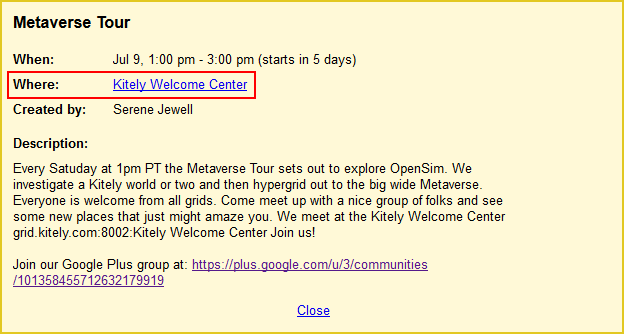 The Kitely Events Calendar is maintained by the Kitely community. If you'd like to add your own events to the calendar then see How to Add Events.
New Design for the Viewer Login Page
We redesigned the viewer's login page in order to make more information visible, while taking up less screen space. We heard from our users that the previous design (where the panels appeared one below the other) was too tall, so some users didn't see the lower panels because they appeared below the bottom of their monitor.
Therefore, we've changed the design. The four main panels now appear in a 2×2 square. Each panel only shows part of its information. To see the full panel, simply move the mouse into the panel: it will immediately expand to show more information.
By the way, you can view this page from a regular browser if you want (not just from a viewer). The URL is: http://www.kitely.com/viewer_login.
Email Notifications for Group Notices
Kitely has an option to send emails when a user receives IMs or Group Notices while offline. In today's update, we've split this option into two parts:
Send me an email if I receive an Instant Message from a person while offline  (Default: on)
Send me an email if I receive a Notice from one of my groups while offline (Default: off)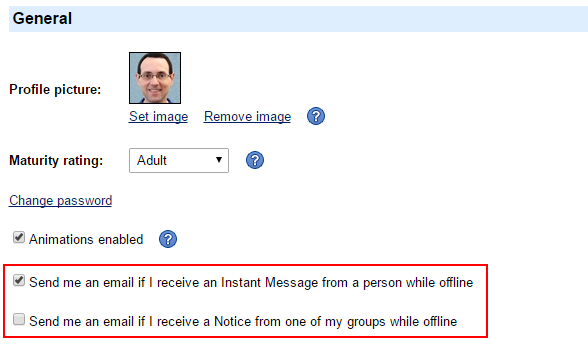 The reason for this change is that some users want to receive email notifications only when someone sends them an IM, but not when one of their groups sends a Notice, because Notices aren't directed personally at them.
We've made the new option (send email on Notice) set to Off by default. So if you do want to receive emails on Group Notices then go to your Settings page and turn this option on.
Other Improvements
We fixed a bug that sometimes caused IM's to stop working after a user teleported to another world.
In a previous update we added the ability to redirect a Kitely Market order from a Kitely avatar to a Hypergrid avatar. We've now improved this feature so that even if the order contained some No-Export items (which can never be delivered to a Hypergrid avatar), we'll still redeliver all of the Exportable items that are in the order, instead of refusing to redeliver anything.
Some products in Kitely Market have demo versions. We don't allow sending Demos to Hypergrid avatars; they can only be sent to Kitely avatars. Previously, if you had selected a Hypergrid avatar then we silently ignored your choice and sent the items to your Kitely avatar instead. But this wasn't clear: people were left wondering why the Demo items weren't delivered to their Hypergrid avatar's inventory. So now we show an error message if you attempt to deliver Demo items to a Hypergrid avatar.
We created a server-side workaround for a viewer bug that causes viewers to fail to load the avatar's inventory when some of the inventory items contain unusual characters in their name or description.
We fixed a rare problem in Kitely Market Analytics that could cause some Views and Impressions to be double-counted.
We updated the version of the Facebook API that we use to version 2.6. This shouldn't have any visible effect, but if you have a Facebook-connected Kitely account and do notice a problem then please let us know.