We updated Kitely today with a couple of important improvements for Organizations (virtual grids). You can now set up a custom viewer login page for your organization. You can also apply to join our Kitely API private beta.
Kitely API Beta
We've created an API that enables Organizations to automate their operations. The API allows you to programmatically create and delete users and groups; change their permissions; and replace the contents of worlds.
Kitely API is currently in private beta, and is being used by select organizations. If you have an organization and would like to use Kitely API then please contact us.
Custom Viewer Login Page
The Viewer Login Page is what appears in Firestorm when you select a grid you wish to log into. Kitely Organizations are virtual grids, and as such they each have a Viewer Login Page.
Previously, each organization's Viewer Login Page was automatically created by Kitely, and just displayed the organization's name and some links. This is still the default Viewer Login Page, but it's now possible for organizations to specify their own Viewer Login Page URL instead. This enables better branding and customization.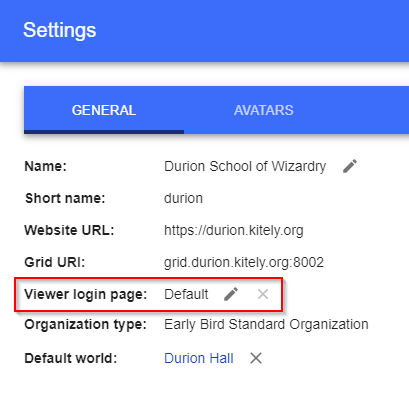 Setting a custom Viewer Login Page is only available for Standard Organizations and above.