We're proud to announce today the most significant update to Kitely since our launch: we now offer unlimited-access worlds for a fixed monthly price!
Since Kitely was founded, our focus has been on providing virtual worlds on a pay-per-usage basis. This type of billing works great in many cases, but many people still prefer to pay a fixed monthly price for unlimited use of a world. Starting today we support both of these options.
Two Ways to Pay For Worlds
We now offer two ways to pay for your virtual worlds:
Fixed Monthly Price – pay a fixed monthly price, and then everyone can visit your world for free.
Time-Based Billing – instead of a fixed monthly price, pay only for the time spent inside your virtual world.
Until now we offered only Time-Based Billing. We continue to offer this type of billing, so if you are an existing user then you can continue using your account just as before. However, you can now also choose to pay a fixed monthly price for your worlds. This option is configurable on a per-world basis.
Pricing
Thanks to our unique cloud-based solution we are able to offer the best price for hosting high-performance OpenSim-based virtual worlds! The price for hosting a world depends on the size of the world (the number of regions):
| Number of Regions | Price | Price Per Region |
| --- | --- | --- |
| 1 Region | $40 / month | $40 / month |
| 4 Regions | $60 / month | $15 / month |
| 9 Regions | $80 / month | $8.89 / month |
| 16 Regions | $100 / month | $6.25 / month |
Our virtual worlds run on powerful multi-core, 7.5 GB servers, and each world can support up to 100,000 prims and 100 concurrent users. This means that our 1-Region worlds, which cost $40 / month, are both cheaper and more powerful than equivalent private islands on other grids, which cost up to $75 / month. And if you decide to host larger worlds then the price becomes ridiculously low, costing as little as $6.25 per region for a 16-region world. Remember that these are not regions running on overcrowded or underpowered servers: each of our cloud-based servers hosts between 1 and 4 worlds, depending on the amount of users in the worlds. This means that if your world has enough users inside it then it will get its own dedicated server at no extra cost!
We're able to offer such low prices because our virtual worlds are only active when someone is visiting them. When the worlds have no visitors they are taken offline, at which point they cost us almost nothing. When someone tries to enter the world it is brought back online.
In addition to being free to visit, fixed monthly price worlds also include unlimited free import and export of OAR files (OpenSim Archive), and they don't count against the number of Free Regions in your plan.
Creating Worlds with Unlimited Free Access
The Create World and Manage World dialogs now have a new checkbox, where you can enable or disable Unlimited Free Access for the world: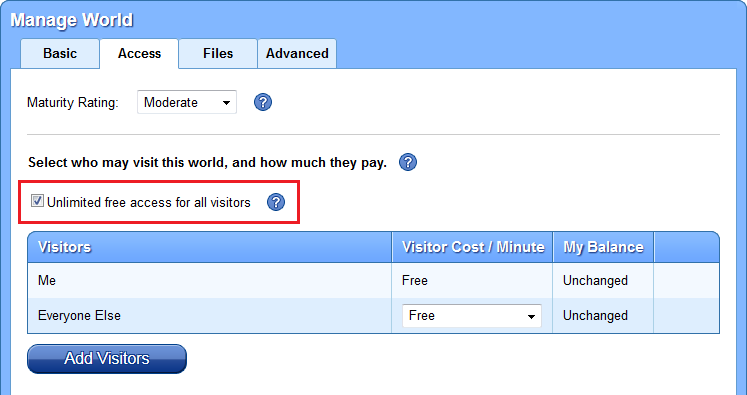 Disconnecting Idle Visitors
For some time now, we've been offering a feature that automatically disconnects visitors that have been inactive for a long time (30 minutes). This feature was enabled by default, because it helps protect you from running out of Minutes if you forget to exit a world when you leave your computer. This feature is also important for Unlimited Free Access worlds, because our low prices depend on the fact that sometimes worlds become empty and can be deactivated. If people can "camp" in a world then it will never become empty. We've therefore decided to remove the ability to disable this feature in order to add the fixed monthly price option.