We updated our system today with several big changes, including upgrading to OpenSim 0.8.2 Release; converting all the big worlds to VarRegions; and 10x faster loading of object contents.
OpenSim 0.8.2 Release
We upgraded to OpenSim 0.8.2 Release. We were already using OpenSim 0.8.2 Dev, so most of the features in OpenSim 0.8.2 have already been included in Kitely. However, there are still a few changes:
The new version of OpenSim has changed the format of compiled scripts. Therefore, all of the scripts in Kitely need to be recompiled. The first time that any world is started after this update, it will spend some time recompiling its scripts. During this time the world will perform slower than usual, and scripts will be slow to start. This will take a few minutes, and it will only happen once.
The value shown for Physics FPS has changed. It used to be around 55 fps, but for a while OpenSim switched to a different way of showing frame rates, which caused the Physics FPS to show around 11 fps. That change has been unpopular so it was reversed, and now OpenSim shows a Physics FPS around 55 again.
In avatars' inventories, the "# Kitely Market" folder will now appear near the bottom of the inventory instead of at the top. This is due to a change in how OpenSim handles inventory folders.
A new OSSL function has been added: osGetAvatarHomeURI. It returns an avatar's Home URI, i.e. the address of its home grid.
Converted All the Big Worlds to VarRegions
All the big worlds (worlds with more than one region) are now VarRegions. See our previous blog post for more information.
10x Faster Object Contents
Don't you hate it when you click on an object to view its contents, and you're stuck looking at "Loading contents…" for a long time?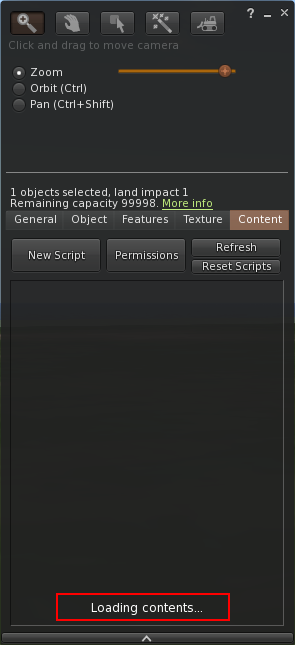 To fix this, we have significantly improved loading the contents of an object:
First, we've improved the reliability of this operation, so the "Loading contents…" message should always disappear eventually, and the contents of the object will appear. (Previously, sometimes the contents never appeared, no matter how long you waited.)
Second, we vastly improved the speed of loading object contents. To test this, we created an object with a large inventory (95 items). In regular OpenSim (and in Kitely before today's update), loading this object's contents took 16.0 seconds. After this update, loading the contents takes just 3.5 seconds, a 78% reduction!
But wait, there's more! Viewers have a debug option called XferThrottle, which can be tweaked to get even more speed. The default value of this option is 150000. If you increase it to 500000 then the time to load the object's contents drops even more: to 1.6 seconds. So in total, Kitely has reduced the time to load the object's contents from 16.0 seconds to 1.6 seconds, which is ten times faster than regular OpenSim!
Here's how you can change the XferThrottle option:
Start the viewer
Make sure the "Debug" or "Advanced" menu is visible (either name might be used). If the menu isn't visible then press Ctrl+Alt+D to show it.
Select from the Debug or Advanced menu: "Debug Settings" or "Show Debug Settings"
In the Debug Settings dialog: type "XferThrottle"
Enter the value you want
Restart the viewer (this is required)
Here's what the Debug Settings dialog looks like in Firestorm:
Two final notes: First, increasing XferThrottle above 500,000 doesn't reduce the loading time any more. Second, increasing XferThrottle doesn't reduce the loading time in regular OpenSim, because it's too slow to take advantage of this setting.
Other Changes
We upgraded to Mono 4.2.1, which should be slightly faster than the version of Mono we used before today's update (3.10).
We installed additional fonts on our servers, which you can use in scripts. See this forum thread for more information. Some of the new fonts include: Zapf Chancery, Arial Black, Comic Sans MS, Impact, and the ever-popular Webdings.
We fixed a search bug: if a world name contained a common word such as "of" or "in", and you searched for the world using that word, then the world wasn't found. Now it will be found. (To be clear, it's not possible to search just using such short words. But it's possible to include them in addition to more substantial words. E.g.: you can search for "state of", but not just for "of".)
We changed the default viewer that we offer to new users to Firestorm 4.7.5.