We are excited to announce that Facebook is no longer required in order to use Kitely. We now support two of the virtual world community's most commonly requested alternative login options: using a Twitter account and using an email and password. We still support Facebook logins as well, but you are no longer required to use them.
Create an account using Twitter
Our new login dialog looks like this: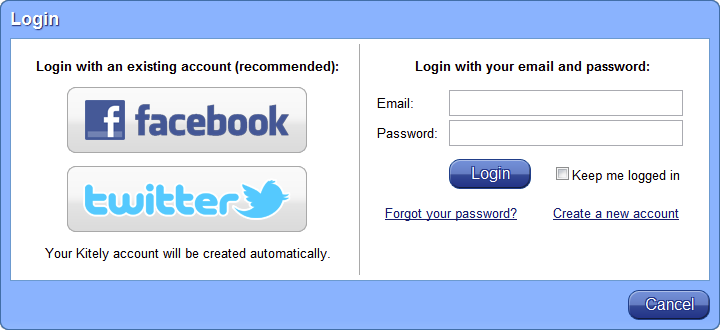 Click on the Twitter button to connect your Twitter account to Kitely.
Your Twitter account affects Kitely in several ways:
You can login to Kitely using Twitter.
Your name will be linked to your Twitter profile in places such as World Pages and the History table, so that people can see who you are and perhaps follow your tweets.
You can use Twitter to restrict who may visit your worlds, if you wish. For example, you can allow only your Twitter followers to enter your worlds, or choose any Twitter List that you subscribe to.
(As a reminder, a similar option exists for Facebook users as well, using your Facebook Friends and the Facebook Groups that you belong to.)
UPDATE March 18, 2015: Facebook will soon stop providing the list of groups their users belong to, so we removed the option of using Facebook Groups for world access control.
Create an account using Email and Password
If you don't want to use either Facebook or Twitter then you can create an account using an email and password. In the login dialog, click Create a new account and enter your details.
Please note that we recommend using Facebook or Twitter to create accounts, because they allow you to use Facebook Friends and Twitter Lists to manage world access controls. An Email/Password account doesn't have these options, so it's less flexible in managing world permissions. In addition, Facebook and Twitter accounts are more secure because they don't require you to create and remember another password. If you are considering creating an Email/Password account because you don't want your real identity to be known then we recommend creating a new Twitter account instead: you can hide your real identity that way as well, and you will still have access to all the great features that are only available to Facebook and Twitter users. Nevertheless, if you don't want to link your Kitely account to an external account then you no longer have to do so.
If you create an Email/Password account then you won't have a profile image initially, because we get those images from Facebook and Twitter. (The profile image appears in the World Pages of worlds that you create.) However, you can add a profile image by creating a Gravatar. Gravatars are a widely used standard for linking an image with an email address.
OSSL Functions Enabled
We now allow the use of some OSSL scripting functions. These are scripting commands specific to OpenSim (they're not available in Second Life). We've set the "threat level" to Low, so the following function groups are available: None, Very Low and Low.